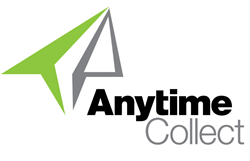 (PRWEB) February 05, 2015
A new version of Anytime Collect, the popular debt collection software from e2b teknologies, is now available. Anytime Collect 2015 is highlighted by new features to help companies manage business credit with email-based alerts and a statistical cash forecasts.
"Anytime Collect 2015 is a milestone release for our customers and partners," said e2b teknologies president Lynne Henslee. "Business credit management can be difficult for many businesses. This release provides a much deeper understanding of what's happening in accounts receivable with new features to manage and monitor credit risk."
Anytime Collect 2015 includes features to track business credit scores from credit bureaus, internal credit scores, notifications for periodic credit reviews, and color-coding to draw attention to high risk accounts. Further, new document management features are helpful for storing related credit reports, business credit applications, and similar information in a centralized location.
The dashboard has been improved to provide a projected cash receipts forecast which uses customer payment history from the company's ERP accounting software to predict when open invoices will be paid providing new insights into cash flow forecasts critical to working capital management.
"Accounts receivable shouldn't be an island in the organization," Henslee said. "We've added a new alerts module which generates email-based notifications to connect everyone with critical account, dispute, and receivable information. Alerts can be setup for virtually anyone including accounting, project management, customer service, shipping, manufacturing, senior executives, or even external bookkeepers or outside sales representatives."
Additional features available with Anytime Collect 2015 include:


    Embedded Customer Support including a Knowledgebase and Online User Community
    Payment Schedules for management of invoices with special terms or payment plans.
    Document Management with centralized storage for account and invoice documents and files.
    Guest Portal Hyperlink for automated access to a secured self-service portal for customers.
    Procedures providing instructions or call scripts for common credit and collections activities.
    Live Chat integration for users to communicate with customers about their accounts or invoices.
    Scheduled Data Synchronization for Intuit QuickBooks (new for Basic Edition).
About Anytime Collect:
Anytime Collect, published by e2b teknologies, is a leading cloud-based accounts receivables management system integrated to leading ERP accounting systems including Intuit QuickBooks, Epicor, Sage ERP, Microsoft Dynamics, and others. Anytime Collect is designed specifically for businesses selling to other businesses on credit terms to streamline and automate the entire accounts receivable credit and collections process with a return on investment in as little as two months.
Related Credit Report Press Releases